Having a well­ defined chin, neck, and jawline are important for projecting your best look possible. However, factors such as gravity, weight fluctuations, and sun exposure can make the neck age faster than we want it to.
The sagging and wrinkled appearance of the neck can be improved through neck lift surgery. Often combined with a facelift, this procedure can make a noticeable improvement in the lower face and neck by eliminating the appearance of loose skin and fat deposits while tightening the neck muscles.
Our Finesse Plastic Surgery team performs neck lift surgery for men and women who wish to achieve a more youthful neck appearance.
Are You A Candidate For Neck Lift?
Ideal candidates for neck lift surgery are in good overall health and have realistic expectations about the outcome of their procedure. Oftentimes, patients undergo a neck lift to improve one or more of the following conditions:
Bands and creases on the neck

Fat deposits in the neck

Loose or hanging neck skin

A double or triple chin
Preparing For Your Neck Lift Procedure
During your consultation with Finesse Plastic Surgery, our surgeons will discuss the neck lift procedure with you in detail and evaluate your medical history. They will ask you questions about your health and overall lifestyle to determine if a neck lift can be beneficial for you. You should stop smoking and refrain from taking any anti­inflammatory medications for at least four weeks before the procedure is performed. It is important that you ask questions and express any concerns that you may have about surgery to ensure that your neck lift procedure is as effective as possible.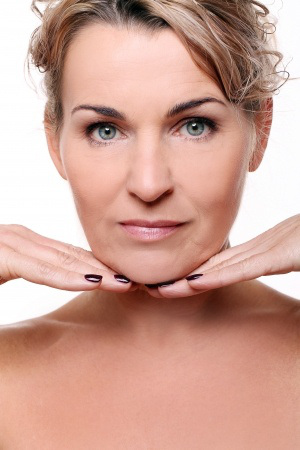 A neck lift is performed under intravenous sedation or general anesthesia. The procedure is done on an outpatient basis and usually takes a few hours to perform, depending on the amount of skin laxity and fat that is present in the neck area.
To perform the procedure, the surgeon will make inconspicuous incisions in the neck and lower face and utilize liposuction to permanently remove localized deposits of fat. After the desired amount of fat is removed, excess skin is excised and the neck muscles are tightened to a more attractive contour. After the doctor is finished with sculpting your neck to a more a youthful appearance, the incisions are closed with sutures.
Neck Lift Recovery
Once your procedure is complete, the neck area will be wrapped with bandages and a special compression garment to reduce swelling and bruising. the doctor will prescribe medication to alleviate any pain or discomfort after surgery. It is important that patients elevate their head to help ensure a safe recovery with minimal downtime. Most patients return to work about a week after a neck lift is complete but should not exercise or perform any strenuous activity for the first few weeks.
Neck Lift Results
The final results of your surgery will not be immediately apparent but will become noticeable over the coming weeks as swelling and bruising subside. Patients are typically very satisfied with their new look and feel confident knowing that their neck and chin appear slimmer and more youthful. The results of a neck lift procedure are long lasting especially if patients maintain a healthy weight and protect the skin whenever it is exposed to sunlight.
To schedule a consultation with Finesse Plastic Surgery, please call 949.272.2085 or feel free to fill out our online contact form. Our surgeons ook forward to meeting you to help you attain a youthful look that appears natural and not "done."