Like most parts of our body, the lips also show signs of aging as we get older. They often begin to lose shape and develop lines that can make the face look less attractive. Lip augmentation is a minimally invasive procedure that restores volume and fullness to the lips while reducing the appearance of fine lines to give individuals a more youthful look. Our Orange County plastic surgeons regularly perform lip augmentation using Juvederm® and Restylane® for people who desire more attractive lips.
Are You A Candidate For Lip Enhancement?
Ideal candidates for lip augmentation are in good overall health and have realistic expectations about the outcome of their procedure.
You may be a candidate for lip augmentation if you have one or more of the following:
Lips that have lost volume due to aging
Lips that have developed fine lines or wrinkles
Lips that are asymmetrical
A desire to achieve fuller and more shapely lips
Preparing For Your Lip Enhancement Procedure
There is hardly any preparation needed for the lip augmentation procedure. Our team of plastic surgeons will give you detailed instructions about how to prepare for the procedure.
Generally, you should stop smoking and taking anti-inflammatory medications, such as aspirin, two weeks before your lip augmentation treatment is carried out to minimize bruising and swelling and to reduce the potential for any problems.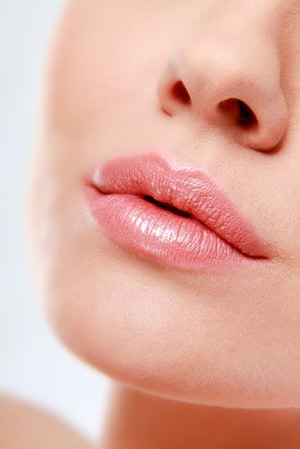 Lip augmentation is performed on an outpatient basis and takes just a few minutes to complete. A local anesthetic may be used in order to reduce discomfort in the lips before one of our surgeon's team members administers the injections. After the lips are numbed, a very fine needle is used to inject the filler to minimize any discomfort.
At Finesse Plastic Surgery, we offer two of the most popular choices for lip augmentation. Both injectables are FDA approved and made from hyaluronic acid, which is a natural substance found in the human body. Your choices of injectables include:
During your consultation, our team will take your preferences into consideration and help you decide which type of injectable will be most beneficial for you.
Lip Enhancement Recovery
Once the injections are complete, patients can immediately return to work and resume their daily activities. The lips may be slightly swollen and tender to the touch, but this will subside as the anesthetic wears off. Over­ the­ counter pain medication can also be taken to further alleviate these symptoms, if needed.
Lip Enhancement Results
The results of a lip augmentation are immediately noticeable and will continue to improve over the coming days and weeks. Oftentimes, individuals are very happy with their new appearance and and feel more confident about themselves knowing that their facial appearance looks more sensual and youthful. The results of lip augmentation generally last between three and six months. To maintain long­ lasting results, it is best to undergo follow­up treatments every 3-­6 months.
Our surgeons will perform your lip augmentation procedure with the highest grade of safety and effectiveness.
We encourage you to contact Finesse Plastic Surgery for all of your cosmetic surgery needs. Call 949.272.2085 or feel free to fill out our online contact form to schedule your initial consultation today. Our surgeons strive to provide you with results that look as natural as possible.