Most patients are happy with the results following breast augmentation surgery. Initial results often persist for up to 15 years. However, sometimes fluctuations in weight, pregnancy, and other factors can change the shape of the breast. Revision breast surgery can correct these changes and improve the appearance of your breasts years after your initial augmentation.
Are You A Candidate For Breast Revision?
There are several reasons for women to seek breast revision. Implants may be too big or too small. Visible rippling may occur, implants can become hard and they can lose symmetry over time. Breast revision surgery involves removing the existing saline or silicone implants from the breasts and replacing them with new implants.
You may want to consider breast revision if you experience any of the following:
Loss of implant volume.

Ruptured implant.

Dissatisfaction with implant size.

Capsular contracture, or tightening of scar tissue.

Change in position of implants.

Stretching caused by weight gain.
Your Initial Breast Revision Consultation
Whether you are a returning patient or this is your first time visiting Finesse, your first step toward a breast revision surgery will be an initial consultation. Your plastic surgeon will talk with you about your goals and desired outcomes, as well as your overall health and lifestyle.
At your initial consultation, everything surrounding your breast revision surgery will be discussed including:
Reasons for breast revision.

Expectations and desired outcomes.

Existing medical conditions and allergies.

Current use of medication, supplements, alcohol, tobacco and drugs.

Personal history of surgery.

Family history of breast cancer.

Results of previous mammograms and/or biopsies.
In order to fully evaluate your breasts for breast revision surgery, the Finesse Plastic Surgery team may also:
Evaluate your overall health and any pre­existing conditions or risk factors.

Examine and measure your breasts.

Photograph your breasts for your medical record.

Discuss anesthesia to be used during your breast augmentation.

Discuss risks and potential complications.
Preparing For Your Breast Revision Procedure
Prior to your breast revision, you will be given specific instructions on what you will need to do before surgery. This may include:
Lab testing and/or medical evaluation.

Mammogram before surgery to help detect any future changes in your breast tissue.

Begin taking certain medications or adjust your current medications

Stop smoking.

Avoid taking any anti-­inflammatory drugs, such as aspirin.

Arrange for transportation home after the procedure.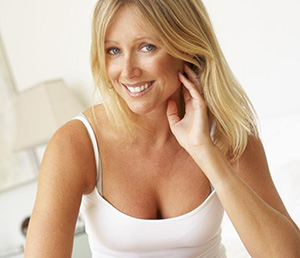 Your breast revision at Finesse will be performed by a plastic surgeon. This procedure is usually performed on an outpatient basis.
Anesthesia
For your comfort, medication will be administered during your procedure. The choices of anesthesia include intravenous sedation and general anesthesia. Your doctor will recommend the best choice of anesthesia for you.
Incision Types
Your plastic surgeon will use one of two types of surgical incisions during your procedure: inframammary or periareolar. The type of incision used during your procedure depends on the current size and shape of your breasts, degree of change desired, type of implant and your preference.
Inframammary
Horizontal incisions are made underneath the folds of the breasts.
Periareolar
Incisions are made around the edge of the areolas. After the incisions are made, scar tissue is excised and the old saline or silicone implants are removed. Your surgeon will then insert the new implants of your choice to provide you with your new look.
What To Expect After Your Breast Revision Procedure
Directly after the breast revision is complete, you will be provided with written instructions, including:
Postoperative directions to follow at home.

Prescription medications.

Follow-up appointments.
Your breasts will be wrapped in bandages immediately following the procedure to reduce swelling. There may experience some pain and discomfort over the next several days, but pain medication can help to alleviate these symptoms. Most patients are able to return to work in about one week, although recovery varies from patient to patient. It is important that you refrain from performing strenuous activity in the first two to three weeks after surgery.
Scarring will happen with any type of invasive procedure, and breast revision is no different. However, scars will diminish over the next few months and silicone tape can be applied to help speed up the healing process.
Other Considerations
Finesse stongly believes in patient education. When you take time to learn about breast revision surgery, you can make informed decisions that lead to the best possible results for you.
Potential Risks & Complications
As with every surgical procedure, there is the possibility of complications developing. Although rare, bleeding, collection of excessive fluid, infection, and reaction to anesthesia can occur. In order to properly recover from breast revision and reduce your risk for complications, it is best that you follow Finesse Plastic Surgery's postoperative instructions.
Breast Revision Results
The results of breast revision will be noticeable immediately after surgery and will continue to improve over the coming weeks as swelling and bruising subside. The results of breast revision are intended to be long lasting if you maintain a healthy lifestyle and steady body weight.

To learn more about breast revisions, schedule a consultation with a Finesse plastic surgeon today.