Your breast augmentation consultation will last about an hour. During that time we will discuss your goals and explain your options for surgery such as implant sizes and styles, incision locations, silicone vs saline implants, and whether your implants should be placed above or below the muscle. You will have a chance to try on different size implants and see what your results will look like using our Vectra 3D imaging system. This is a great way to show you which implants look best on you. We can also use the Vectra to show you whether a breast lift will help you to achieve the result you are hoping for.
Finesse Plastic Surgery is ONE of only Seven practices in Orange County to offer the Vectra 3D Breast Imaging System.

Are You A Candidate For Breast Augmentation?
You may be a candidate for breast augmentation if your breasts:
Are naturally small or underdeveloped.

Have lost volume or shape due to pregnancy, weight loss or aging.

Lack symmetry in size and/or shape.
Breast augmentation cannot correct severely drooping breasts. Patients who would like perkier appearing breasts may want to consider a breast lift in conjunction with breast augmentation. During your consultation our plastic surgeons will let you know whether you would benefit from a breast lift at the same time as your augmentation. We can also show you what your results would look like with and without a lift using our Vectra 3D imaging system.
Your Initial Breast Augmentation Consultation
Your first step towards breast augmentation surgery will be to come into our office for a consultation. You will spend approximately an hour with one of our plastic surgeons and discuss your goals. During the consultation some things we will discuss include:
Your Expectations and desired outcomes.

Existing medical conditions and allergies.

Current use of medication, supplements, alcohol, tobacco and drugs.

Any history of breast surgery.

Personal or family history of breast cancer.

Results of previous mammograms and/or biopsies.
Your consultation will include:
An evaluation of your overall health.
A breast examination to determine which implants will fit your body and help you achieve your goals
Photographs for your medical record.
A discussion about the anesthesia to be used during your procedure
A discussion about the risks and potential complications of breast augmentation surgery
Your plastic surgeon will review some before­ and after­ photos of our patients, so you'll have a better idea of what kind of results are possible. We also suggest that you bring your "wish pics" so we can get an idea of what kind of result you are hoping for.
Preparing For Your Breast Augmentation Procedure
Prior to your breast augmentation, the Finesse Plastic Surgery team will give you instructions telling you what to do before your surgery. Some of the important items that you must address include:
Lab testing for all patients
A formal medical evaluation for surgical clearance for all patients over 40
A mammogram before surgery for all patients over 40
Smokers must stop smoking a minimum of 4 weeks prior to surgery (and refrain from smoking an additional 4 weeks after).
Avoid taking any anti-­inflammatory drugs, such as aspirin for 2 weeks prior to surgery
Arrange for transportation home after the procedure from a friend or family member. You cannot be sent home in a cab or Uber service.
Arrange to have someone stay with you for the first night after surgery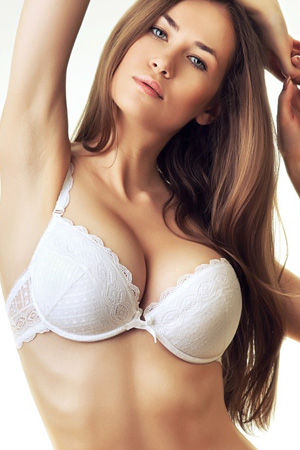 Breast augmentation is performed on an outpatient basis by our plastic surgeons.
Anesthesia
Anesthesia will be administered by a board-certifed anesthesiologist in a certified ambulatory surgery center. This ensures the highest level of safety for our patients.
Incision Options
There are three commonly used incisions used for breast augmentation. The incision used during your procedure depends on various factors. These include the current size and shape of your breasts, the size and shape of your breast implants, the type of breast implant, your preference, and your surgeon's preference.
Inframammary
A horizontal incision is made underneath the fold of each breast.
PERIAREOLAR
Incisions are made around the edge, or just within, the areola (the darker colored skin surrounding your nipple).
Transaxillary
Inconspicuous incisions are made in the natural folds of the skin in the armpits.
Types of Breast Implants
During your consultation you will learn about the variety of sizes and styles of implants available.
Size: Implant sizes range anywhere from 100cc's to 800cc's (up to 950cc for saline). The average implant we use during cosmetic breast cases is about 400cc.
Profile: Implants come in extra low, low, moderate, high and extra high profiles. A 400cc extra low profile implant is wide and short, whereas an extra high profile 400cc implant would be narrow and tall. The volume is the same, but the way it gets distributed through the breast is different.
Round vs Shaped: Patients can choose between round or shaped implants. Round implants are frequently used to provide more fullness in the upper part of the breast. Shaped implants have a teardrop shape and can deliver a more natural profile to patients who don't want anyone to know they have implants.
Read more about Breast Implant Choices.
Placement Of Breast implant
After the incision is made, a pocket is created either under or over the pectoralis muscle. For the majority of patients we place implants below the muscle. Exceptions to this are body builders and professional athletes. When implants are placed above the muscle there is a higher risk of capsular contracture (hardening of the scar tissue around the implant). In addition, implants above the muscle block more tissue in a mammogram, making it more difficult for the radiologist to make sure there is no cancer in the breast. The main benefits of placing implants above the muscle is that there is less discomfort and no chance for animation deformities (movement of the breast implant when a patient flexes).
Incision Closure
Once the breast implants have been placed and positioned, your incisions will be closed using layered sutures in the breast tissue and skin. A dressing of surgical tape or skin glue will be placed on top of the closed incision.
What To Expect After Your Breast Augmentation Procedure
At Finesse Plastic Surgery we follow our patients very closely during the recovery period to make sure everything goes smoothly. Our surgeons will call you the night of surgery to make sure you are feeling well and to answer any questions you have. One of our staff members will call you the morning after surgery to check in. You will see your surgeon 5-7 days after surgery for your first postoperative visit. This gives us the opportunity to see how you are doing and to assess your early results. We will then see you for your 1/3/6/12 month postop visits to make sure your implants settle into an ideal position and give you the best result possible.
Our office will provide you with written instructions regarding:
Post-surgery care to follow at home.
Prescriptions for medication.
Follow­-up appointments.
Submitting breast implant registry documents.
Breast Augmentation Recovery
At the end of the procedure your surgeon will place dressings on the incisions and put you in a bra or wrap. You may experience some discomfort and muscle cramping in your breasts during the first several days after surgery. You will be given pain medication and a muscle relaxant to help with these symptoms. Recovery time varies. Most patients can return to work after one week. Strenuous physical activity is discouraged for the first three weeks following surgery.
Scars:
The incision lines typically fade and become quite subtle within 9-12 months of surgery. We will provide you with a silicone scar therapy product such as Silagen to help you get the best scars possible.
Other Considerations
Potential Risks & Complications
There are risks associated with any type of surgery. Bleeding, infection, adverse reaction to anesthesia are all rare, but they can happen. Patient safety is always our first priority. We carefully select patients who are good surgical candidates, use the best surgical facilities, and meticulously perform our procedures to make sure our patients get the best possible outcomes.
Costs
Breast augmentation costs vary. Costs include facility fees, anesthesia fees, surgeon fees, breast implant prices, medication and testing. Costs will also be affected if your breast augmentation is performed along with another procedure, such as a breast lift or tummy tuck. While costs should always be a consideration, it is important that you have your procedure performed by an experienced plastic surgeon. This ensures your safety and high-quality results.
Breast Augmentation Results
Breast augmentation has one of the highest satisfaction rates of any cosmetic procedure. There are many factors that can impact your results: the anatomy you start with, the size and shape of the implants used, whether saline or silicone implants are used, how the surgeon performs the procedure, and how well you heal after the surgery. While results can vary from patient to patient, we find that most patients are happy they decided to have the surgery, and most say they would recommend the procedure and our team to a friend. Most women experience improved confidence after breast augmentation, and enjoy getting to wear clothes that they didn't feel comfortable in before having implants.
Warranty
All of our Natrelle breast implants come with a 10-year warranty that patients receive free of charge! The warranty provides you with a free implant replacement if you develop a capsular contracture (Baker Grade III/IV) within 10 years of your surgery and a lifetime replacement in the event of implant rupture or deflation. You may choose any implant size for your replacement, as long as it is comparable to the style of your original implant.
To learn more about your choices when it comes to breast augmentation, schedule a consultation today.